Cox, Castle & Nicholson's Ira Waldman Honored As 2015 Real Estate Lawyer Of The Year By Who's Who Legal
5.6.15
News & Publications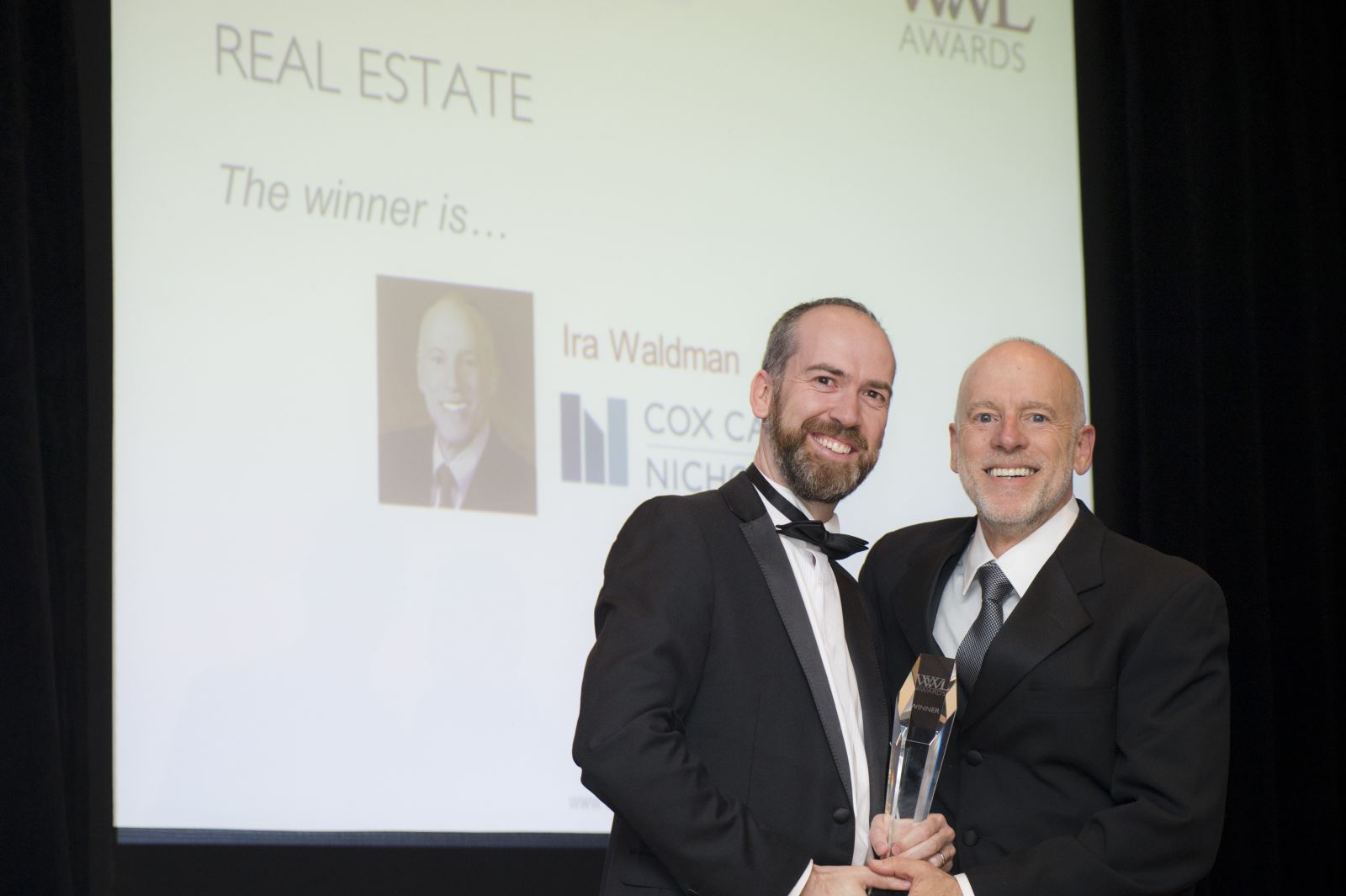 Firm Ranked 19th in Construction & Real Estate in the 2015 Who's Who Legal 100
Los Angeles – (May 6, 2015) – Cox, Castle & Nicholson proudly announces that partner Ira Waldman was named the "2015 Real Estate Lawyer of the Year" by Who's Who Legal, a leading directory of more than 16,000 of the world's leading private-practice lawyers from more than 100 national jurisdictions. Waldman, a graduate of Bates College and the University of Maine School of Law was honored by Who's Who Legal as a recipient of one of its Who's Who Legal Practice Area Awards 2015, which recognizes individuals and firms that performed exceptionally well in an independent assessment of the world's top law firms and lawyers in a variety of business practice areas.
In related news, Who's Who Legal 100 2015 ranked Cox, Castle & Nicholson 19th in its list of the world's top Construction & Real Estate law firms. The listing specifically referred to Cox, Castle & Nicholson as "one of the largest full-service real estate focused firms in the U.S." Also, several of the firm's attorneys were recognized for their industry expertise and strategic counsel with clients, including Clark Morrison, Phillip Nicholson, Ira Waldman, Adam Weissburg and Mathew Wyman.
"We are very proud of Ira and the recognition that this prestigious national honor brings to him and our firm; it demonstrates the leadership, hard work and strategic counsel that he offers his clients every day," said Mario Camara, managing partner at Cox, Castle & Nicholson's Los Angeles office. "Being named a top-20 global firm in Construction and Real Estate by Who's Who Legal further reinforces our leadership in the market as well as our deep commitment to solving our clients' most complex real estate legal matters."
For Waldman's award, among his many accomplishments, the recognition cited his work representing a developer of a $160 million, 544-unit multi-family redevelopment project involving a renegotiation of a ground lease with the County of Los Angeles and the largest HUD construction loan made in the U.S. On the personal, client-facing side, Waldman was recognized as "a 'high flier' in the real estate market who is noted for his 'practical, solutions‑oriented advice' and 'personable manner.'"
"It is very gratifying and humbling to receive this honor for work that I love to do, which is help our clients conclude deals and achieve their business goals," said Waldman.
Waldman's Who's Who Legal honor follows several other prestigious awards that he has received in the last several years, including:
LACBA Real Property Section, Outstanding Real Estate Lawyer, 2014
Chambers USA, Real Estate, 2005 - 2015 (currently Band 1)
Best Lawyers, Real Estate Law, 2001 - 2014
Southern California Super Lawyers, 2010 - 2015
Southern California Super Lawyers, Southern California – The Top 100, 2014
International Who's Who of Real Estate Lawyers — Most Highly Regarded Individuals, 2006, 2008, 2009, 2011, 2013, 2014
About Cox, Castle & Nicholson
Cox, Castle & Nicholson, one of the largest full-service law firms focused on real estate in the United States, delivers strategic legal counsel and services to developers, lenders, investors, joint ventures, pension funds, landlords, tenants, high net-worth individuals and others to manage their complex real estate, business and litigation challenges. Founded in 1968, the firm has more than 125 transactional and litigation attorneys in offices in Los Angeles, Orange County and San Francisco. For more information, visit www.coxcastle.com.
Related Professionals
Related Practice Areas